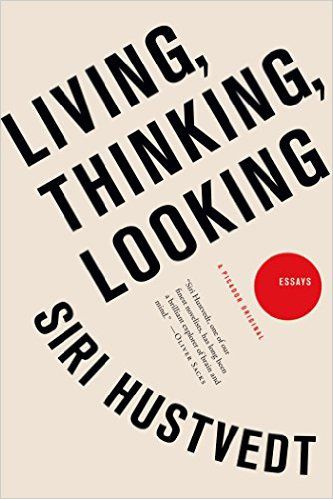 Living, Thinking, Looking
Living, Thinking, Looking brings together thirty-two essays written between 2006 and 2011, in which the author culls insights from philosophy, neuroscience, psychology, psychoanalysis, and literature.
The book is divided into three sections: the essays in "Living" draw directly from Hustvedt's life; those in "Thinking" explore memory, emotion, and the imagination; and the pieces in "Looking" are about visual art. And yet, the same questions recur throughout the collection. How do we see, remember, and feel? How do we interact with other people? What does it mean to sleep, dream, and speak? What is "the self"? Hustvedt's unique synthesis of knowledge from many fields reinvigorates the much-needed dialogue between the humanities and the sciences as it deepens our understanding of an age-old riddle: What does it mean to be human?
"Another superb essay collection from novelist Hustvedt … the author trains a formidable intellect on difficult subjects (the structure of the brain, the nature of perception) with an engaging personal touch that invites a general readership … Hustvedt addresses a broad public without dumbing down her material. There are no weak essays here … At once stimulating and warm-hearted, with sentences of drop-dead beauty and acuity on nearly every page." —Kirkus Reviews
"Hustvedt's essays are always perceptive, erudite, and also quite rarefied." —Publishers Weekly
"An ardent reader, researcher, observer, and writer, Hustvedt presents an impressive group of involving inquiries spanning six years and a spectrum of intriguing subjects stemming from her main fascination, 'what it means to be human.' … Hustvedt is wholly present and compelling in her iridescent essays as she pinpoints such elusive phenomena as memory, perception, and feeling and traces the fine mesh that unites our minds to our bodies, our individual selves to the living world. Mystery, fact, intelligence, and enchantment flourish here."
 —Booklist
"[Hustvedt uses] the self and ideas of self to launch brilliantly into recondite areas of cognition and psychiatric theory."
 —Buffalo News
"For while there is nothing simple about Hustvedt's subject matter – it ranges from migraine to Goya via existential philosophy and psychoanalysis – there is something refreshingly straightforward about her style. It has the confidence born of complex but well digested thoughts and thus lacks the tendency to obfuscate that is the hallmark of the inferior thinker's style." —The Guardian (UK)